For decades I have heard credible reports that healing and other miracles are relatively common on the mission field. Miracles are great, but my real interest is in accelerating the multiplication of disciples passionately devoted to Jesus.
While I believe in God's power to heal today, I have not considered myself Pentecostal or even Charismatic.
Here is my story of why I began looking into healing, and how God has been answering my prayer for understanding and experience regarding His desire to impart authority to His people for healing today:
December, 2013
Only a tiny trickle of people come to Jesus through invitations to church. To reach the vast majority, we must obey Jesus' commands to "go" and "disciple" (Mt 28:19). A remarkable advance in this direction is the recent emergence of Reproducing Discipleship.
In mid-December I had an intense volunteer role as guest assistant editor for the Mar/Apr 2014 issue of Mission Frontiers on Reproducing Discipleship.
However shortly after taking on this assignment I was hit with a horrible case of sciatic pain which kept me from sleeping more than two hours at a time. Not knowing God's readiness to heal, I simply used sleepless night hours to pray, and continue working despite the pain.
However as Reproducing Discipleship is based heavily on Mt 10 and Lk 10, my pain heightened my interest in certain commands we often ignore in these passages:
As you go, proclaim this message:
'The kingdom of heaven has come near.' Heal the sick, … .
Freely you have received; freely give (Mt 10:7-8).

Heal the sick who are there and tell them, 'The kingdom of God has come near to you' (Lk 10:9).
This got me puzzling over the disparity between
the frequency with which I hear about dramatic mission field healings, and
the scarcity of such healing among Christians here at home.
January, 2014
In the midst of my sciatic pain a Facebook friend "happened" to offer a free copy (upon request) of the recent book Divine Healing Made Simple by "Praying Medic." ("Praying Medic" is an ambulance paramedic who became convinced God wanted him to learn to heal people in Christ's authority. He prayed for 500 people before seeing anyone healed, and now sees about 80% of those he prays for healed.)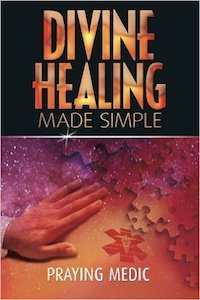 This book (especially the first chapter, though I thoroughly enjoyed the whole book) were pivotal in my own change of thinking about the authority God wants us to walk in. Read the first chapter yourself free through Amazon's "Look Inside" feature. (You may have to use the internal "Contents" link to reach that chapter.)
I accepted the book thinking I would "get to it some day"—after catching up on other things. But skimming the first chapter hooked me with certain observations which had somehow escaped me:
Without exception, Jesus healed everyone He was asked to heal.
Rather than asking God to heal, Jesus healed by command (his own authority with the Holy Spirit's empowering), and he directed his disciples to heal in the same way as they proclaimed the presence of God's Kingdom.
"Praying Medic" proposed that our greatest obstacle to healing is a misunderstanding of our identity and authority in Christ.
I thus began to reflect on the authority Jesus demonstrated: teaching and preaching, forgiving sin, healing, raising the dead, over evil spirits, and training others. Each of these He also demonstrated authority to delegate to His disciples. And as I reflected on this I sensed God say to me:
My Kingdom is present wherever my Children are present with understanding of how to walk in their authority.
I then invited "Praying Medic" to join others in praying for me, and as I applied what I was learning in his book, I was fully healed from sciatic pain over about five days!
As I described this experience and my resulting questions to friends, two global leaders in Reproducing Discipleship confided that "every new church they looked into on the mission field was started through a miracle."
Let me draw a parallel between a paradigm shift inherent in Reproducing Discipleship, and a paradigm shift unfolding in regard to healing:
Reproducing Discipleship depends on a shift:
– from inviting others to receive ministry from experts,
– to broad lay participation in witnessing and training others.

My recent interactions with mission leaders suggest that God similarly wants to shift Divine Healing:
– from "flashy personalities" attracting crowds,
– to the common experience of believers.
February, 2014
Jackie and I invited Neil and Dana Gamble of Father's Hand to our home for a few days. (This couple helped launch a movement in India which now baptizes a million people each year, and the leaders credit Neil with centering the movement on abiding in Christ and walking in healing and miracles.)
Neil and Dana taught us that authority for healing and other miracles flows out of communion with God as we listen to His voice. And hearing God's voice is much simpler than we had imagined; our Almighty Father won't allow us to be misled when we are seeking His guidance—just as a human father won't give a snake when asked for a fish (Lk 11:11).
They also suggested that we can test the first impression we receive after asking God's guidance with the question, "Why wouldn't that be God?"
And if God gives us a "word (or image) of knowledge" which we think may be for someone else, we will likely have no way to test it other than offering it to the person for whom we think it may be intended. So we can offer it with a question like, "I think God gave me this for you … Does this mean anything to you?" Such an approach will make the other more open to what we have to say, and the "word of knowledge" will bring the deepest comfort or conviction if it speaks to something the other person has thought or experienced which we have no way to know or test.
Furthermore, we shouldn't judge whether such a "word of knowledge" was truly from God by the other person's reaction, which can be filtered by embarrassment or pride.
(As of mid-June I haven't experienced this kind of word, but I continue inviting God to use and guide me in this as He desires.)
March, 2014
I received a text that a close friend was in a coma and probably wouldn't recover. Gary had come to my home just a month earlier, full of faith that God would heal him of his current cancer just as God had healed him of previous cancers. So I was stunned by this news and started fasting and praying.
I then read John G. Lake's amazing testimony of God's intervention to heal his dying siblings and wife. Here is Lake's key insight:
[My eyes fell on Acts 10:38]: "Jesus Christ, anointed by God of the Holy Ghost, who went about doing good, and healing all that were oppressed of the DEVIL; for God was with him." Like a flash from the blue these words pierced my heart. "Oppressed of the devil!" Then God was not the author of sickness, and the people whom Jesus healed had not been made sick by God!

I saw as never before why Jesus healed the sick. He was doing the will of His Father, and in doing his Father's will was destroying the works of the devil (1 Jn 3:8).
After a few more days of fasting I sensed that God was leading me to drive across WA to lay hands on Gary and pray, and I rallied support prayer from everyone I knew. On the way I had a precious time with the Lord in which I realized that, regardless of the outcome, one benefit of going was that I wouldn't spend my life wondering what could have happened if I had gone.
When I arrived I laid hands on Gary and prayed for him at length. His wife and other believers were present and in agreement, yet it was to no avail. The conviction that seized John G. Lake did not grip me, and my friend went home to Jesus that night.
I still had more to learn.
My Tribute to Gary Bundy describes the impact he had on stirring me to seek to hear God more clearly and walk more in His presence.
April, 2014
While learning about and reporting on an updated strategy for starting movements among Muslims, my sciatic pain came back full force. Once again I couldn't sleep more than a couple of hours at a time. As I prayed through this round of pain, I sensed that the Lord was leading me to visit my doctor to check whether something more serious might be going on.
("Praying Medic" is an ambulance paramedic. Like others I am learning from, he encourages pursuit of available medical treatment, and does NOT endorse neglect of available medical resources as "an expression of faith.")
My doctor assured me I didn't appear to have anything more serious than a pinched nerve. He also said that, before he could order expensive tests, I would need to try some exercises and basic pain medication. The exercises showed me a new position I could fall asleep in, but did nothing more for me. And the Vicodin didn't touch the pain or help me sleep—it just made me even groggier, with other unpleasant side effects. I took this as confirmation that God wanted me to focus on learning more about divine healing through prayer, so I stopped the pain medications and continued simply seeking the Lord.
May, 2014
A friend then recommended that I visit the local "healing room" I had recently learned about, which were inspired by John G. Lake's ministry of a century earlier. Since 1999 the Healing Rooms movement has spread to 1,500+ locations worldwide and trained 25,000+ intercessors. I made three visits to our local healing room over one week, and each time I had less pain and slept better afterward. Since shortly after my third visit, I have been completely free of sciatic pain again to the present day!
Then a friend offered to send me another new book detailing one man's experience living in God's presence. I began to reply that I couldn't make time to read another book now, but after reading on line the first chapter of Jeremy Mangerchine's The Longest Bridge Across Water, I was hooked.
I bought the $.99 Kindle version and finished it in less than 24 hours. Like nothing else I have read, this book has drawn me toward a abiding communion with God (entering the "rest" of Hebrews 4:1-11) which parallels what Brother Lawrence and Frank Laubach described. And this experience brought greater faith for authority from God to heal in Jesus' name.
June, 2014
On June 14th, 2014 my wife Jackie and I joined about 30 others for a one-day training at our local healing room. For me the greatest surprise was a "new" verse God snuck into Acts 4 since I last read that chapter :-).
I have long been bound by timidity, and have repeatedly joined others in praying Acts 4:29: Now "enable your servants to speak your word with great boldness." Yet without me noticing, God slipped in the next verse as part of the same prayer: "Stretch out your hand to heal and perform signs and wonders through the name of your holy servant Jesus." And somehow I had never considered the context of this prayer either—for boldness in the face of opposition aroused by a public healing.
Another friend told me that his mentor, Art Thomas regularly sees a majority of those he prays for healed, and that on at least ten occasions when Art has trained church members in praying for the sick, everyone present has been healed as the church members prayed with authority for one another.
Art has posted a number of excellent, free videos on YouTube. I haven't watched them all yet, but so far my favorites are: